More than a century of construction expertise and support for
our virtual building services of today.
We Deliver Certainty.
AMP (Advanced Modeling Precision) is a team of experts in virtual design, working across the entire construction team to coordinate every level of the virtual model – from owner, to designer, to contractor, to trade.
AMP provides certainty, efficiency, security, and simplicity at every step of the process.
Proof:
Level IV BIM Authority
Educated, trained, and based in US
We know the industry, not just the software – with 50 years of construction experience
Reduces change orders, schedule overruns, and rework
With AMP, you build the project virtually, before anyone lifts a shovel – enabling problem solving before they even have a chance to develop.
WITH AN INDUSTRY STANDARD COST OF $3,100 PER CLASH, EACH FOOT MODELED BY AMP CONSULTING HAS THE POTENTIAL TO SAVE OWNERS TIME AND MONEY.
Build Efficiently
We can help you save time and increase your project's productivity, leaving money in your pocket.
What We Offer
Our Virtual Building Services
AMP Consulting Team
20+ years of BIM experience on a variety of projects
Virtual Construction Building
Architectural shop drawings
Mechanical system fabrication
Field Point layout
Laser Scanning
Point cloud stitching
Clash detection & resolution
BIM software management
BIM Consulting to the AEC industry
BIM News / Blog
See what we're up to at AMP Consulting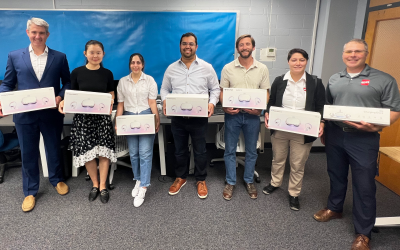 The rapid evolution of technology and the integration of virtual reality (VR) into various industries have radically transformed the way we approach problems.